---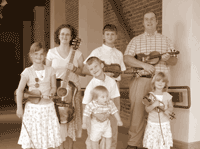 L'Acadie Inn & Park is owned and operated by Lance and Kelly Pitre, both locals to the area. They have five children , a dog, cats, some game birds, chickens, ducks, geese, two donkeys, and sheep.
Lance grew up in Pa-Ta-Sa, a neighborhood south of Eunice. Pa-Ta-Sa is of Choctaw origin meaning "flat fish or perch." He went to Eunice public schools and graduated from Eunice High School where his love of football began. He continued his education at Louisiana State University - Eunice for two years and transferred to Louisiana State University - Baton Rouge where he completed his bachelor's degree in economics. Lance decided to go one step further. He attained his law degree from LSU Law School in May of 1999. The many years of schooling has made Lance a big LSU sports fan.
When Lance is not working on one of his many new projects at L'Acadie Inn, he works on computer hardware, networking and web design. Lance serves his community by volunteering for the Eunice Economic Development Board. He is also currently part owner & construction manager at Lakeview Park.
Kelly grew up in the country in a small community east of Eunice called Swords. She attended the local St. Edmund Catholic School until she graduated from high school. Kelly went on to Louisiana State University - Eunice and later transferred to Louisiana State University - Baton Rouge as well. She attained a Bachelor's and later her Master's degree in Speech/ Language Pathology. Kelly is currently not practicing (except on her own children) but busy running L'Acadie Inn and homeschooling three very active children.
Her interests include cooking, gardening, quilting, reading, and learning to play the guitar.
Lance and Kelly lived in Baton Rouge for seven years while in school. They decided to move back home to Eunice to raise their children and be closer to both of their families. In July, they will celebrate over 18 years of annoying each other. They love living and working in Eunice where you can't leave the post office, bank or grocery store without stopping to say hello to someone. Lance and Kelly hope to promote and share their Cajun culture with as many people as possible. They are also avid competitors in the World Championship Crawfish Etouffee Cookoff and continue to add trophies.
Lance and Kelly have five, wonderful and sometimes challenging, children -- Matthew, Heidi, Alain, Camille & Nicolas. The younger children homeschool, while the older ones attend the local public school. They enjoy a variety of sports, dance, music, and scouting activities.